What are deposit limits?
According to local regulations, when receiving funds in certain country/regions you are required to provide corresponding sales order information for cross-border declaration. The total amount on the order information you provide from the past 350 days is your "deposit limit" for a given currency, which represents the maximum amount you may receive via this Airwallex account.
Throughout the process, Airwallex aims to shield you from regulatory complexity, that way you can focus on more important matters. We guide you through what to submit, how to submit it, and what to expect at every step.
Using Global Accounts with a deposit limit
Like any other deposit, start by opening a Global Account in the country where you are collecting local currency. When you are ready to add funds, record your Global Account details (or provide them to your customers) and complete a bank transfer.
Example: Receiving deposits in IDR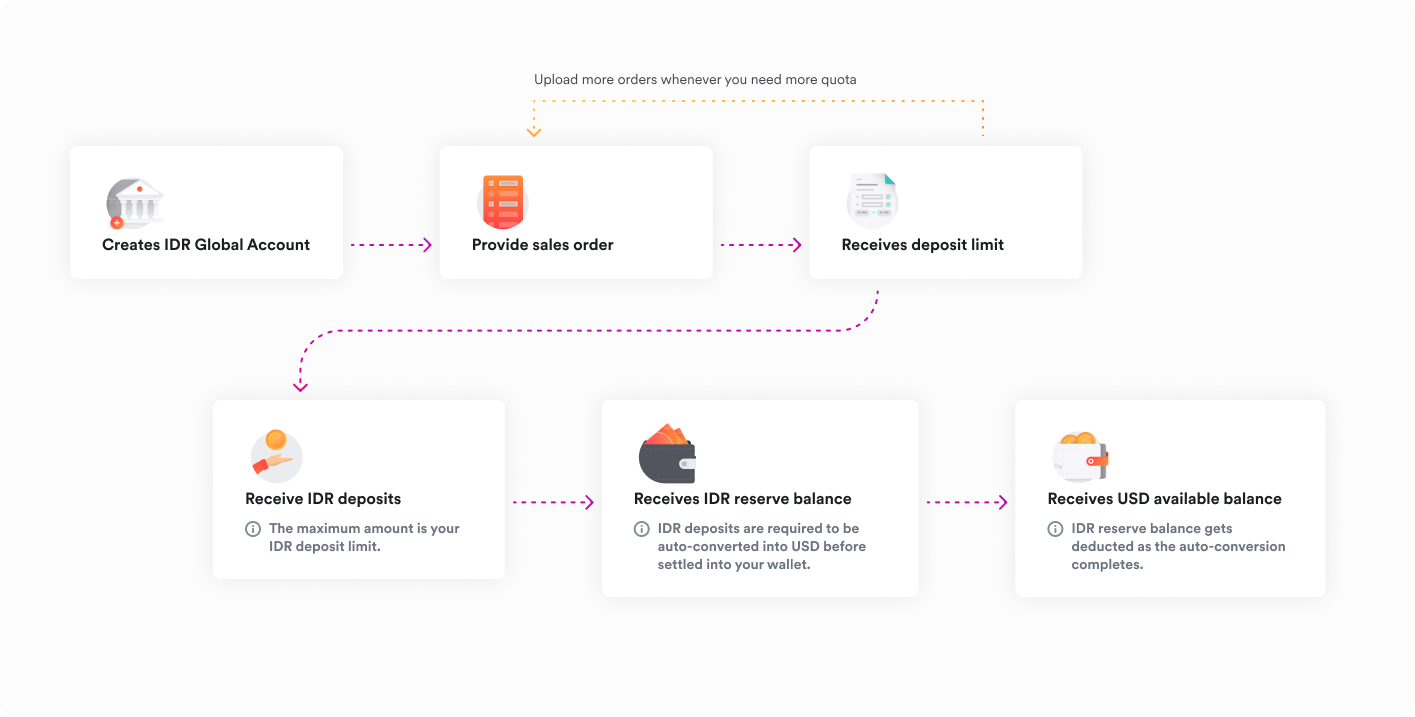 Using IDR as an example, the key difference comes in the documents you must submit before your deposits settle. Regulators in Indonesia want to understand why you are receiving IDR.
Airwallex therefore asks you to provide "sales orders", or invoices of the goods or services you sold in Indonesia. Once your uploads are verified, we take the value of your sales orders and add them to your "deposits limit". You must submit sales orders before making deposits. If your deposit arrives and you do not have enough deposits quota, your deposit will be rejected and refunded to the sender.
You can check your available IDR deposit limit under the details page of any IDR Global Account. Note that your deposit limit is assigned on a currency level and shared across all IDR Global Accounts under the same Airwallex account.

Can I reuse order information for deposit and payout limits?
If you need to receive funds from a region that requires a deposit limit (i.e. IDR), and pay the same funds into another region that requires a payout limit (i.e. CNY), you may use the same order information to increase your deposit and payout limit with a single upload.
Example: Receiving IDR and paying CNY.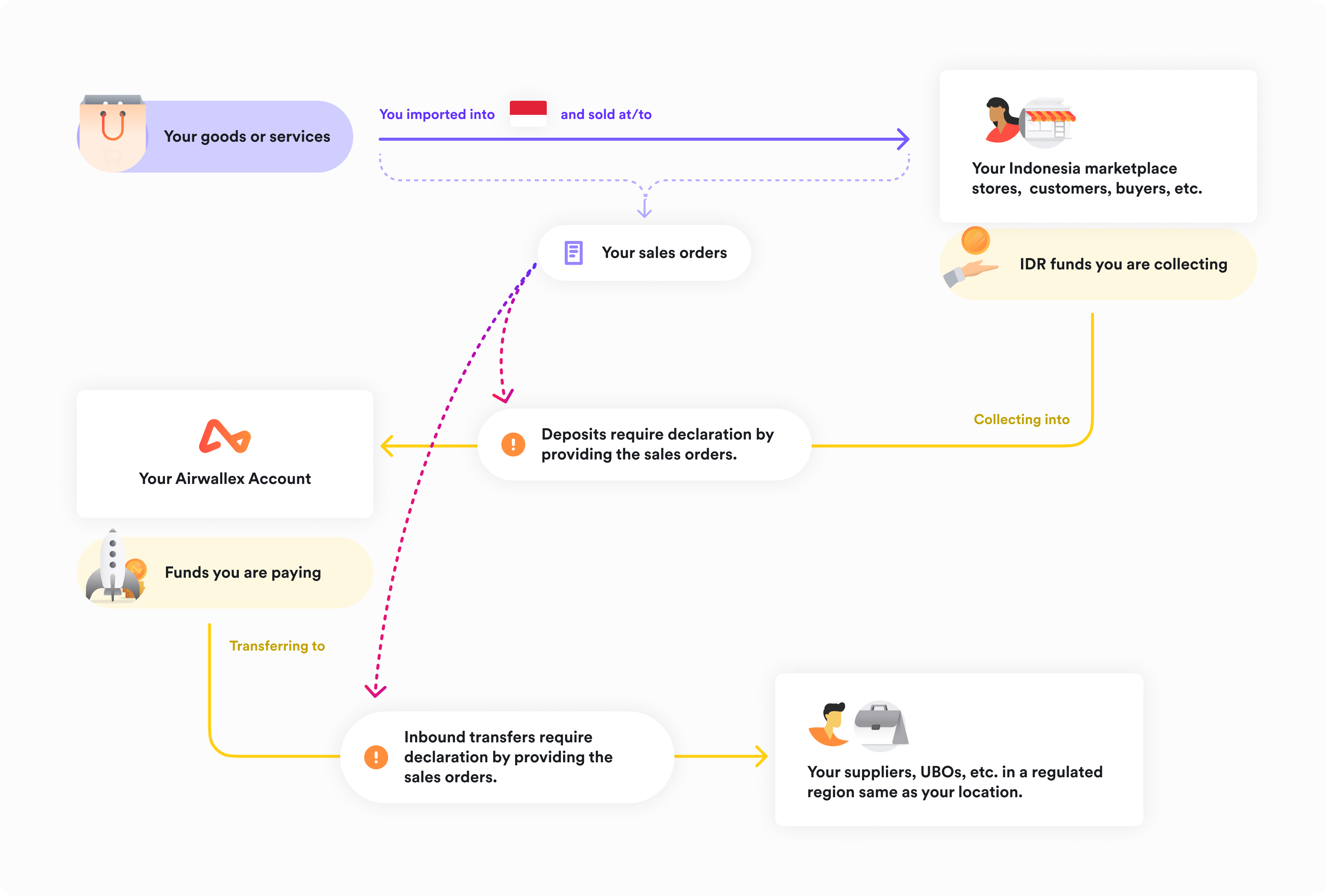 Note, only select customers are eligible to reuse their sales orders for both quota. If any of the following describe you or the things you are selling, then you are not eligible for reusing orders:
You are based outside of the regulated market you seek to transfer funds to

Your goods/services were NOT exported from the regulated market you seek to transfer funds to

Your goods/services were NOT imported into the regulated market you seek to collect funds from
Why are my deposits auto-converted?
According to local regulations, funds received via Global Accounts must be converted and sent overseas, and cannot be held in your Wallet balance.
Using IDR as an example, as soon as IDR funds arrive in your Global Account, we will auto-convert it into a currency of your choice (i.e. USD) and add it to your Wallet balance. We use competitive exchange rates provided by Airwallex, consistent with what is offered if you initiate a transaction via "Conversion".
You can amend your preferred auto-conversion currency at any time in your Global Account under "Account capabilites," and changes will apply to any future deposits via this Global Account. If you wish to configure multiple auto-conversion currencies, we recommend you create multiple Global Accounts with different configurations.