This guide will provide an overview of your Expenses integration with Xero.
For more information, please check out other articles on Expenses and Xero.
What is the difference between Xero Bank Feed and Xero Expense Data?
While related, the Xero Bank Feed and Xero Expense Data integrations are slightly different.
The Xero Bank Feed integration enables you to automatically sync all your Airwallex wallet transactions to Xero on an hourly basis.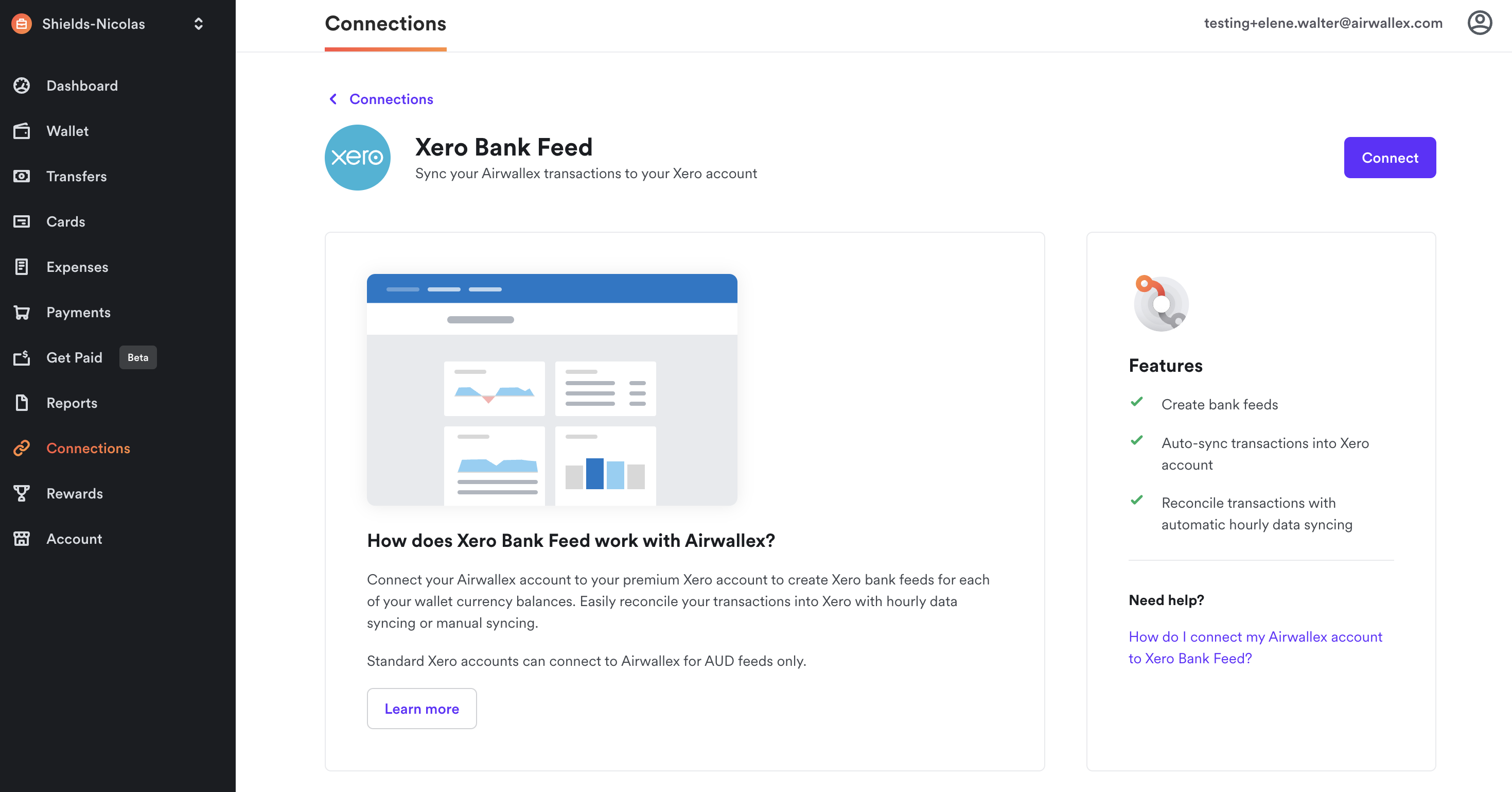 The Xero Expense Data integration is an add-on to the Xero Bank Feed integration. It enables you to:
import your expense information (e.g., chart of accounts, tracking categories etc) from Xero into Airwallex and;

sync expenses and receipts back to Xero for reconciliation against the bank feed.
Importing information like your chart of accounts into Airwallex allows you to delegate tasks like expense categorisation and receipt upload to your cardholders. They'll be able to log in to Airwallex to categorise expenses and upload receipts. When the expense syncs to Xero, it will sync with all the relevant expense information and receipts.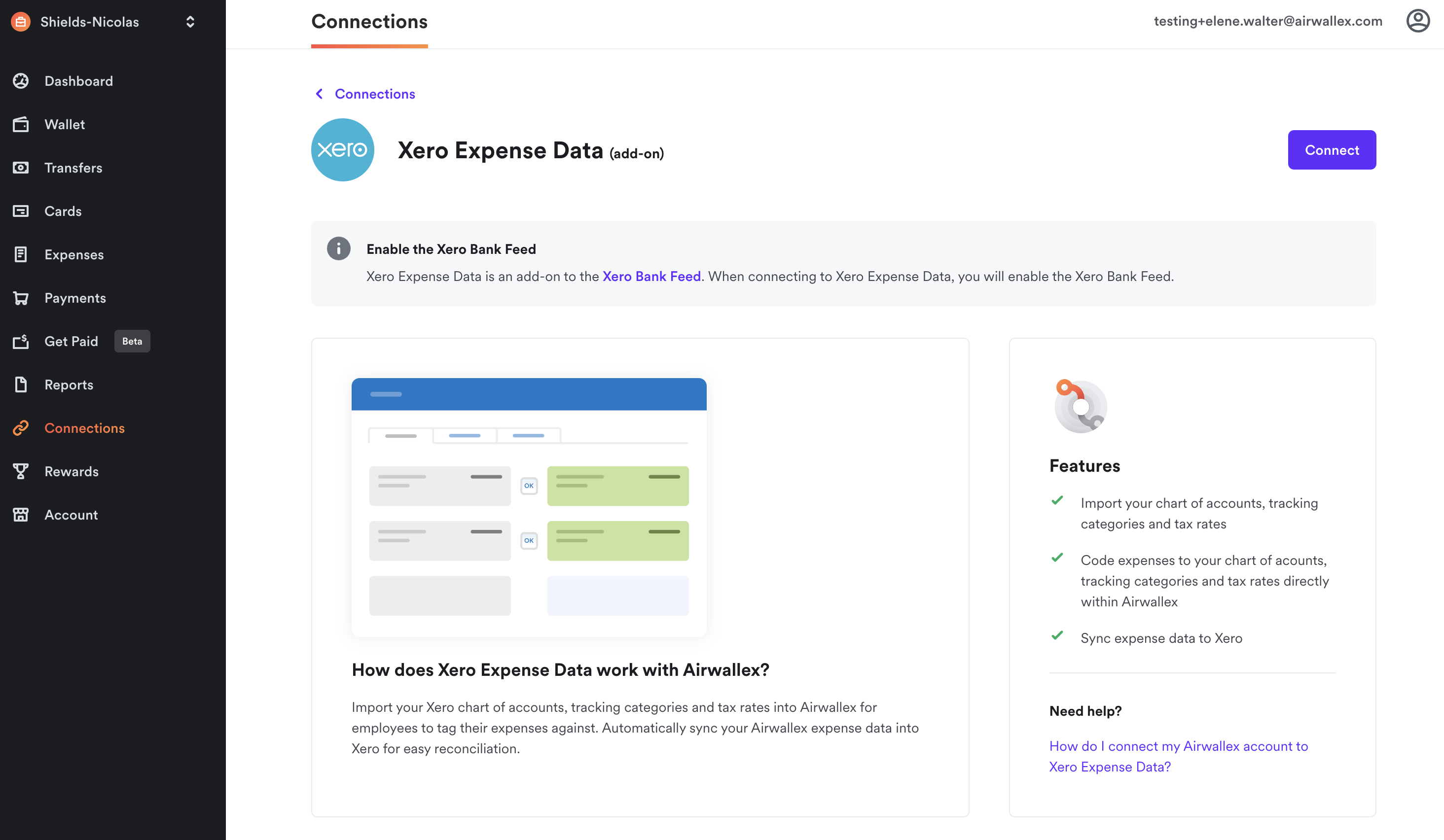 How do tax codes tie into Expenses?
Admins can configure the Xero integration to import the relevant tax types for their business. Expenses can then be classified by expense users according to whichever tax type is relevant for that expense (e.g. GST, VAT).
If the admin chooses to not import any tax categories when importing the chart of accounts, as the expense flows through to Xero (once the employee has chosen the Chart of Accounts GL code) Xero will assign the default tax code configured in Xero for that specific GL code.
What happens after an expense is approved?
Once an expense is approved, it will automatically begin the syncing process to Xero. The expense will be synced to Xero as a bank transaction and will include the following information:
- Transaction details
- Attached receipts (if any)
- Expense category selection (chart of account)
- Tracking category selection (if any)
- Tax rate selection (if any)
- Notes (if any)
To check the status of the expense sync to Xero, refresh the page. If the expense status is "Synced", then the expense has completed syncing to Xero. If the expense status is "Sync failed", then there was an issue that prevented the expense from syncing to Xero.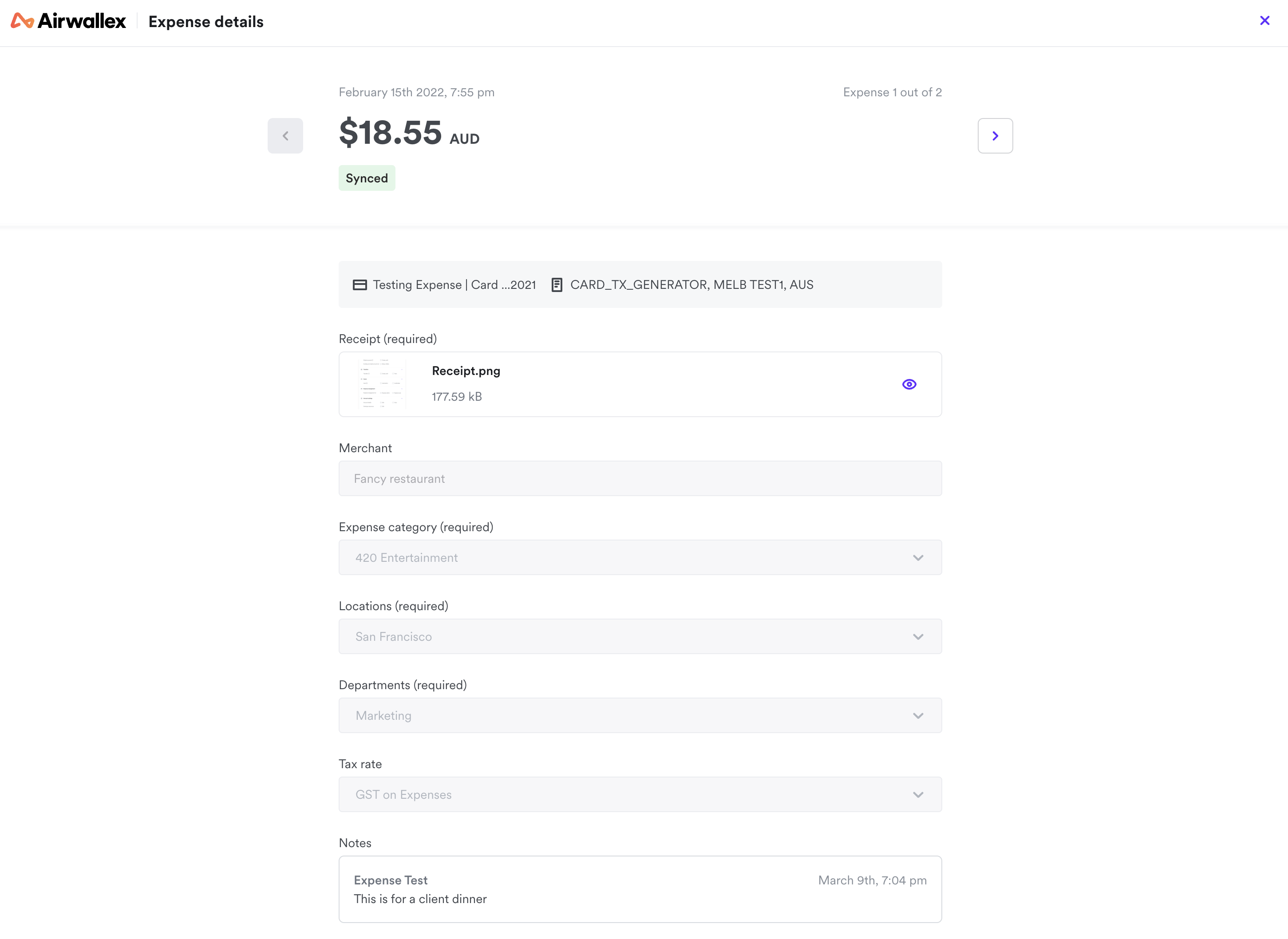 Please note:
- When syncing expenses to Xero, a new "Airwallex Expenses" contact will be created and all expenses synced from Airwallex will be assigned to this new contact.
- If the cardholder fills out the default Airwallex merchant field, that information will be displayed in the Description field in the Xero Bank transaction.
- Individual notes synced to Xero will be displayed at the bottom of the bank transaction, under History & Notes.
How do I reconcile expenses in Xero?