You can receive payments using Airwallex via your Shopify Store. Save on double conversions by using Airwallex's multi currency online payments to settle in 8 different currencies directly into your Airwallex wallet.
Watch our video below and follow the instructions to install Airwallex as a payment method.
For a complete installation guide, read our product documentation here - Shopify
Step 1. Enable web hook
To begin, you will need to set up your web hook for your Shopify plugin, so that Airwallex and Shopify can communicate the events from payments.
On your Airwallex account, navigate to "Account" and then click the "Developer" tab.
Here you can enter the following web hook URL: https://www.airwallex.com/shopifyapp/airwallex-webhook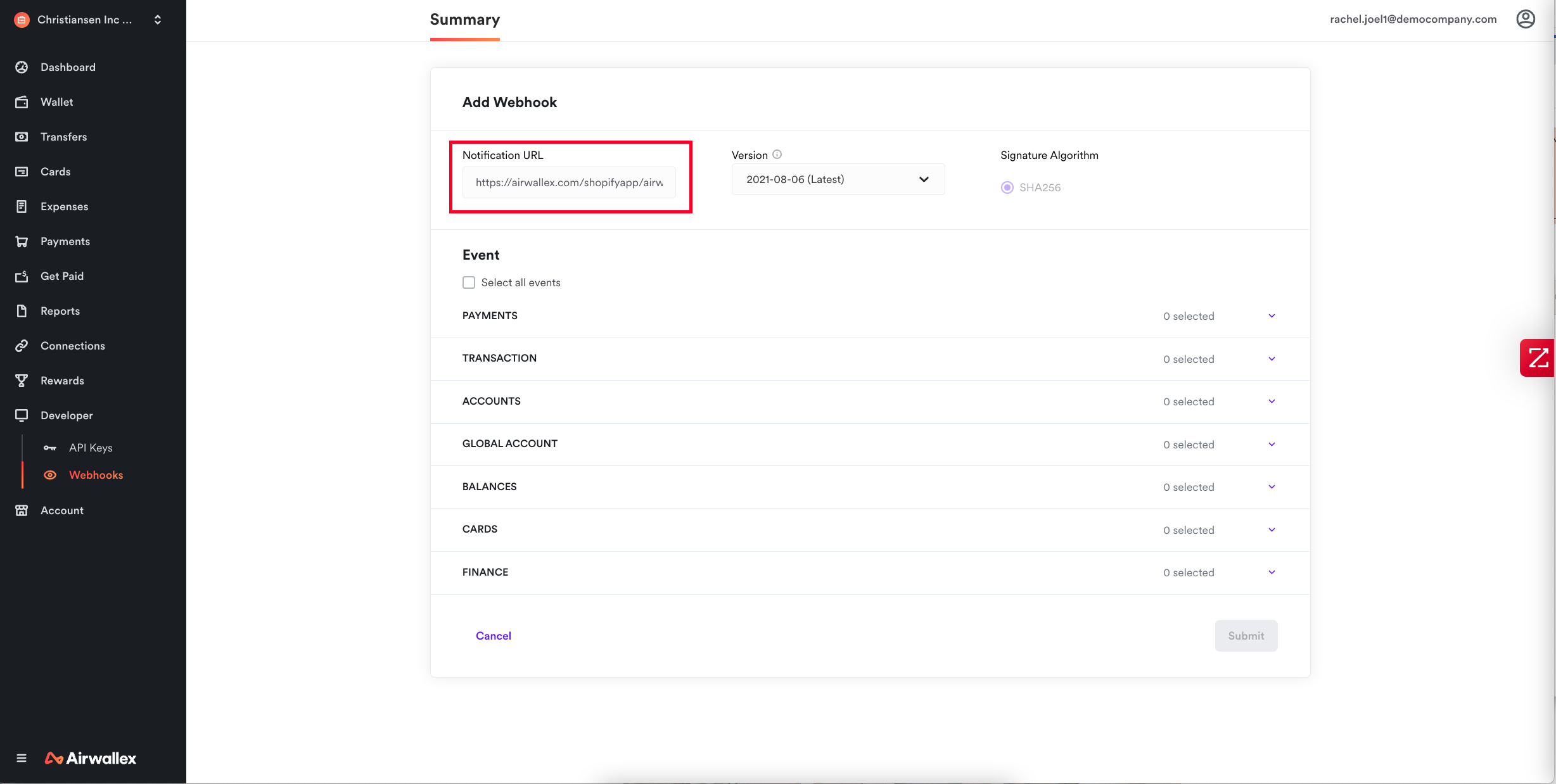 Select the webhook events shown in the screenshot below and click Submit.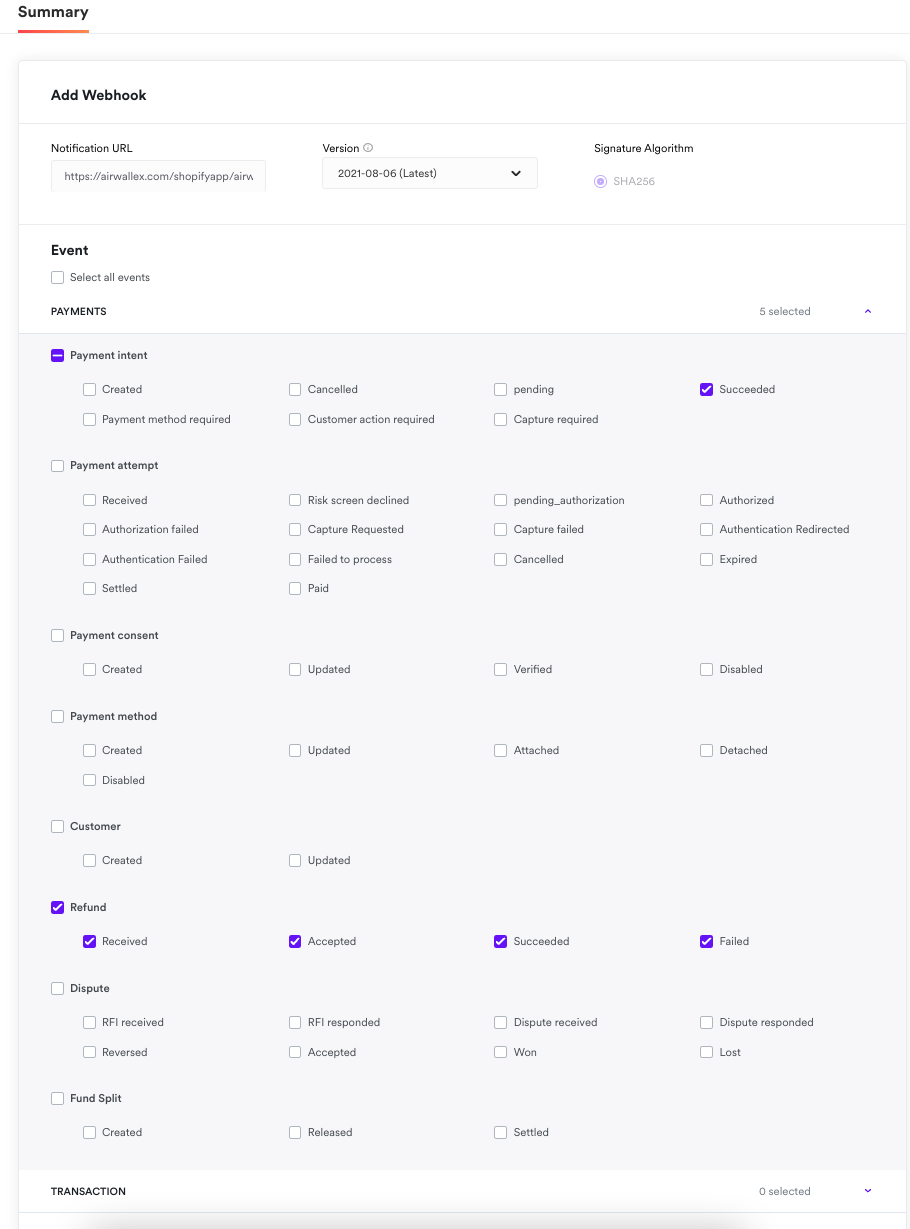 Step 2. Activate payment method
Login to your Shopify store and from the Shopify Admin Home Page, click the settings button on the bottom left of the panel.
In the settings screen, Select "Payments" on the left hand panel.
In the Payments screen, click on the "Add payment methods" button at the bottom of the "Additional payment methods" section.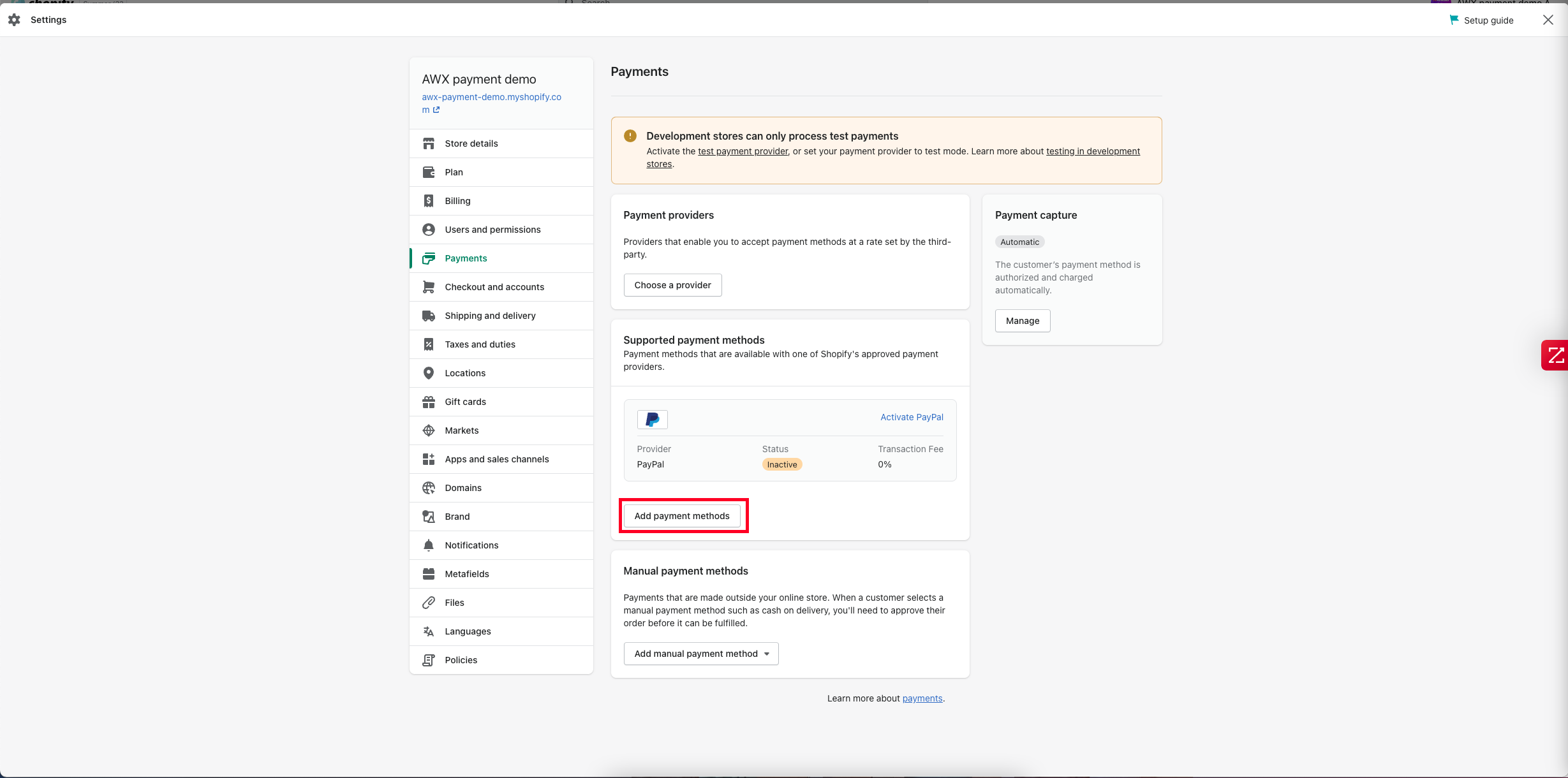 In the Additional payment methods screen, you can search by payment provider and select "Airwallex".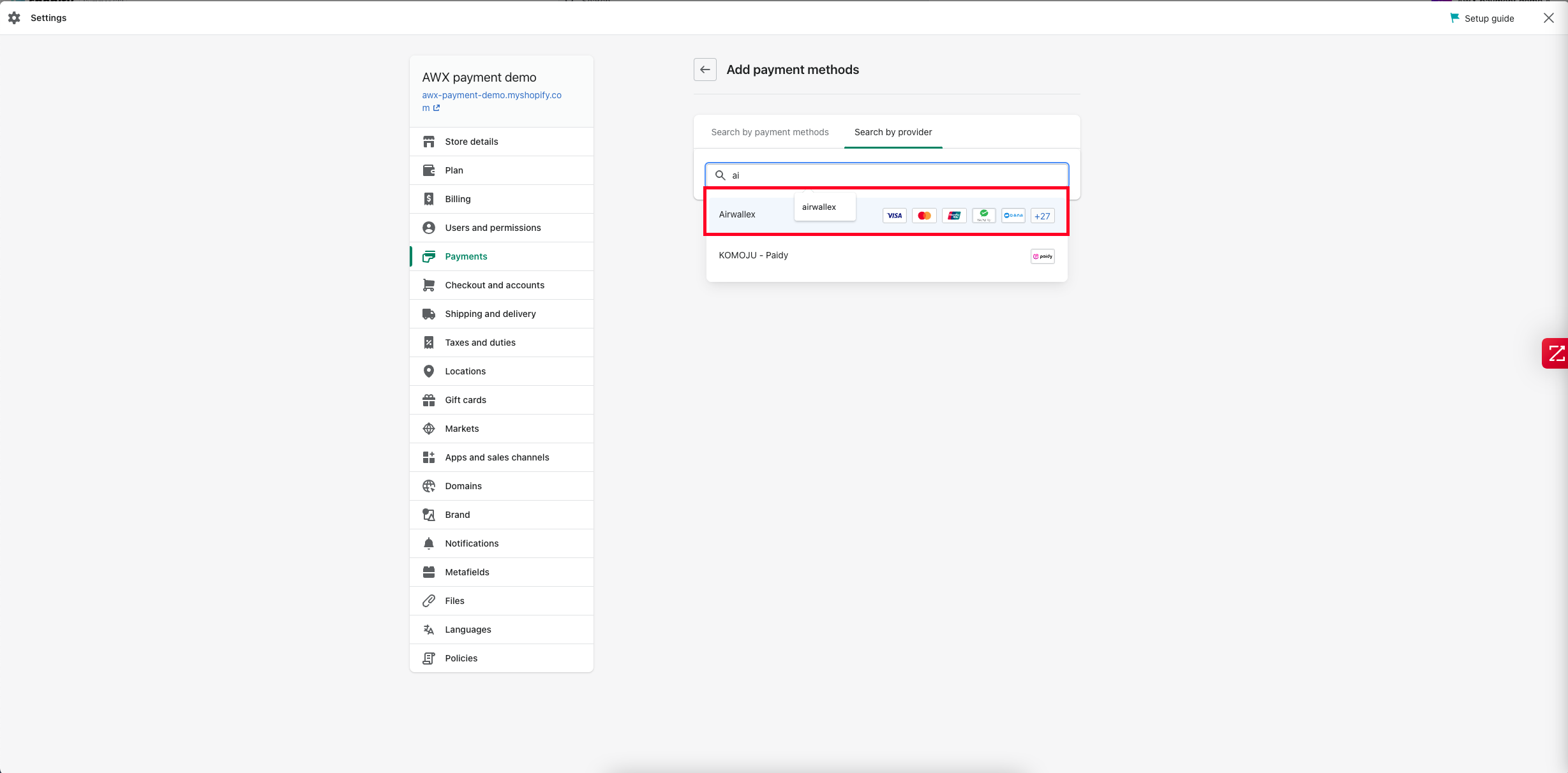 Click "Activate"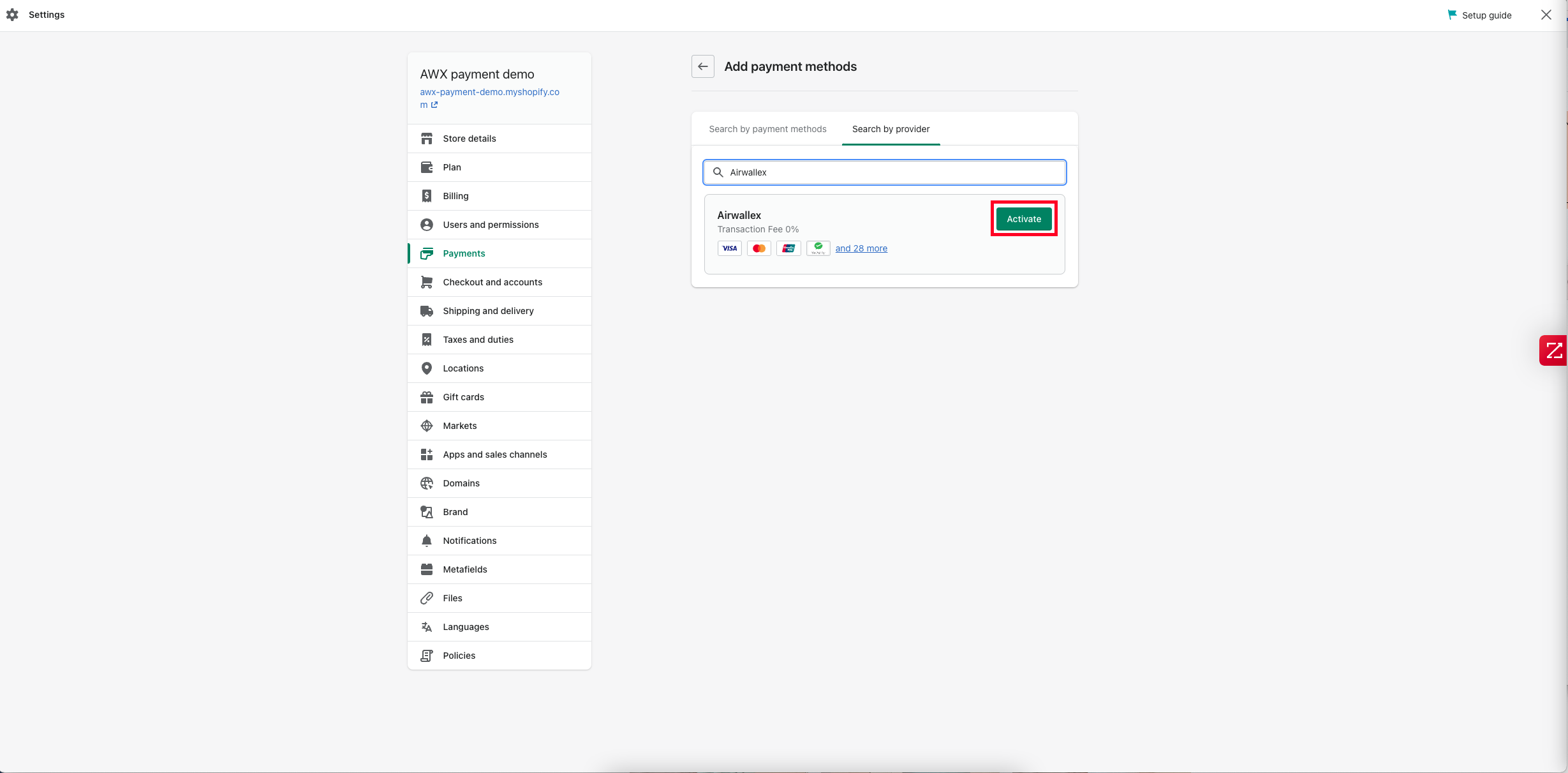 Step 3. Connect your store
On the next screen, click "Manage" where you will be redirected to setup your Airwallex account before receiving payments
Login to your Airwallex webapp and select an account that you want to connect to your Shopify store, and click "Submit".
You will be redirected back to your Shopify settings where you can select the payment methods you would like to accept via your website. You will also have the option to enable test mode - this is useful if you want to test the checkout flow before live transactions. Click Save and you are all set!
Please note: Make sure the payment methods you selected on this page are already approved and configured by Airwallex. Your shoppers will only see the payment methods you have successfully onboarded with Airwallex. The logos payment methods you selected here will be displayed on your checkout page.