What are the file formats accepted to create a batch transfer?
With the new Batch Transfers feature, Excel file format (.xlsx) is the only file format supported to create a batch transfer. You can generate a batch transfer template to create your own batch transfer file.
Customers in Australia can also create a batch transfer using an ABA file.
Note: If you have been using the older version of batch transfers ( before October 2023), the same batch transfer file (in .csv or .xlsx) can still be accepted in the new Batch Transfers feature.
How do I handle the invalid transfers after upload?
After you upload the batch transfer file, Airwallex will perform validation on all the transfers in it. If one or more transfers fail validation, we will inform you of the result, and you can:
Review the invalid transfers by downloading the validation result file.
If you decide to fix the invalid transfers on the spot, click "Cancel and re-upload" to start over with your updated batch transfer file.
If you decide to proceed first with only the valid transfers, click "Proceed without invalid transfers". After the submission, you can still access the invalid ones through the validation result file that can be found under the Timeline in batch transfer details
How do I handle batch transfers that are "partially booked" or "failed to book"?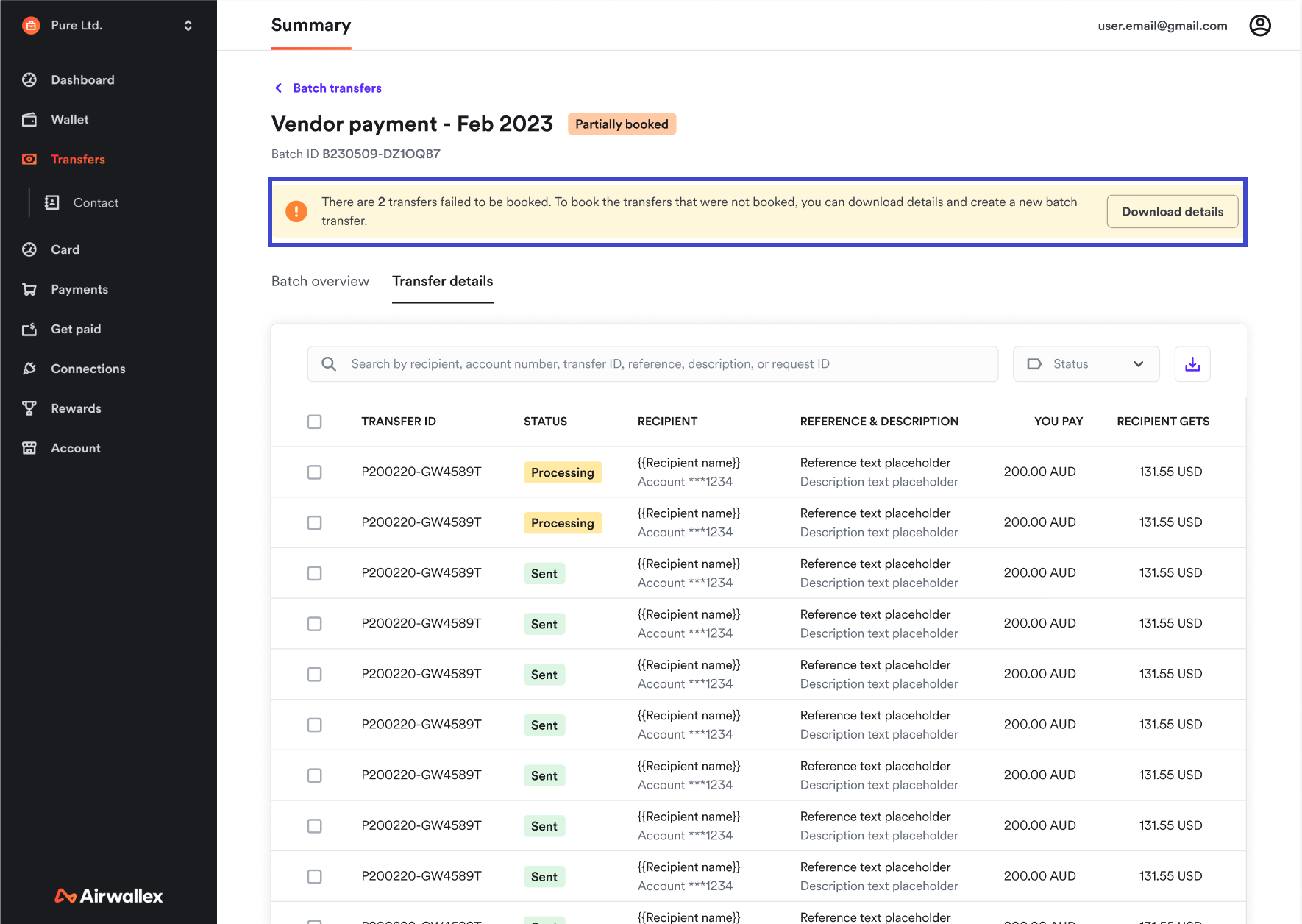 In rare circumstances, batch transfers could fail to book (e.g. wallet balance is consumed from elsewhere immediately after you create or approve a batch transfer), or be partially booked (e.g. underlying orders for China CNY Local transfer limit fails to match certain transfers). You can access the transfers that are not booked by downloading a details file from the error banner shown on the batch transfer details page. You may create another batch transfer with this file.