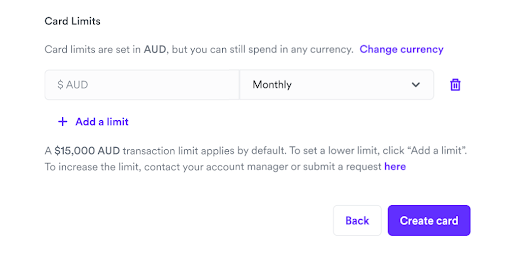 This article shows how you are able to change limits applied to any of your company or employee cards.
All cards have a default transaction limit of 10,000 USD or equivalent in another settlement currency. You can set a lower transaction limit on the card by clicking "Add a limit" and selecting "Per transaction" as the frequency. If you would like to increase this default limit, you can contact your Account Manager or submit a request here.
You can also add additional limits to the card, including a daily, weekly, monthly, or all time limit. Daily, weekly, and monthly limits refresh every day, week, month, quarter and year respectively. An all time limit does not refresh automatically. Once your spending reaches the all time limit, your card will automatically be deactivated.