For employees / cardholders
Account Admins can order a physical card for you, so please ask an Admin on your account to create a physical card for you.
For Admins
To create a physical card for your employees or yourself, simply follow these steps:
Step 1. Click the 'Cards' section of your account, then 'Create a new card'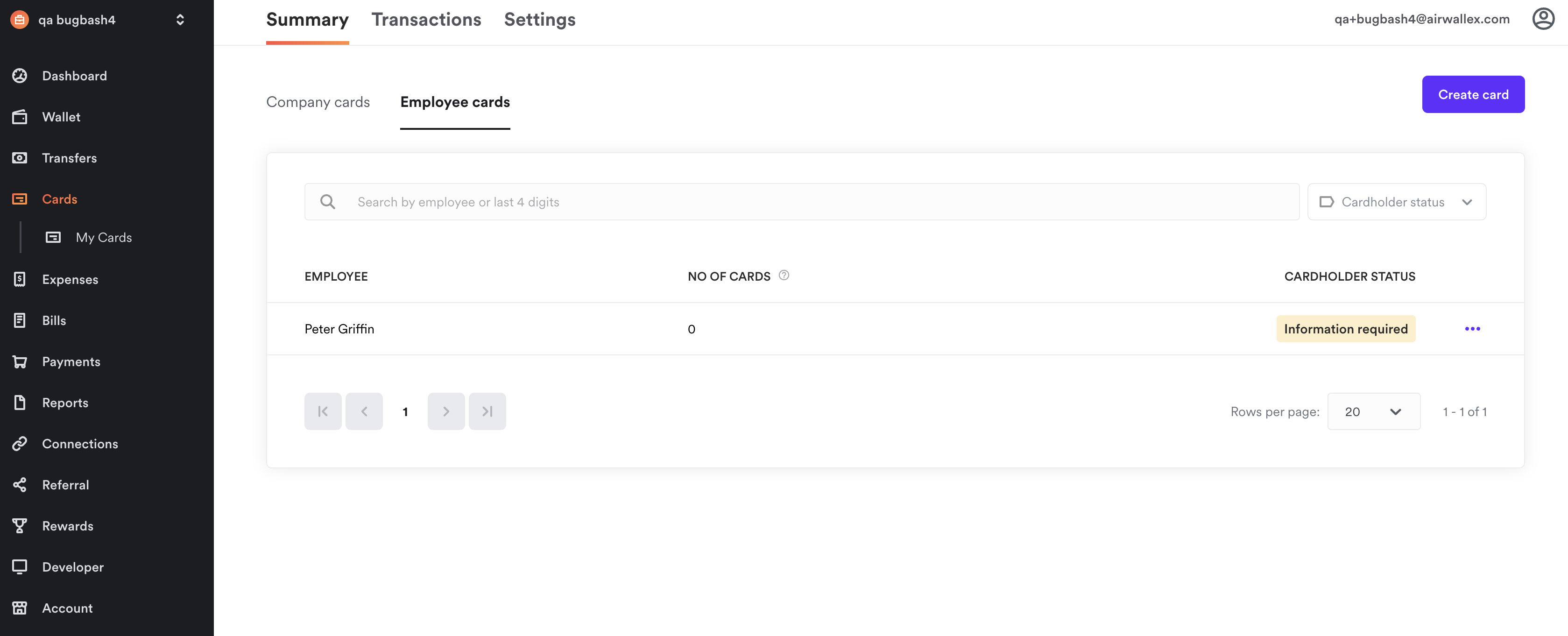 Step 2. Select 'Employee card'
We're currently only offering physical cards for employee cards. Company cards cannot be created as physical cards.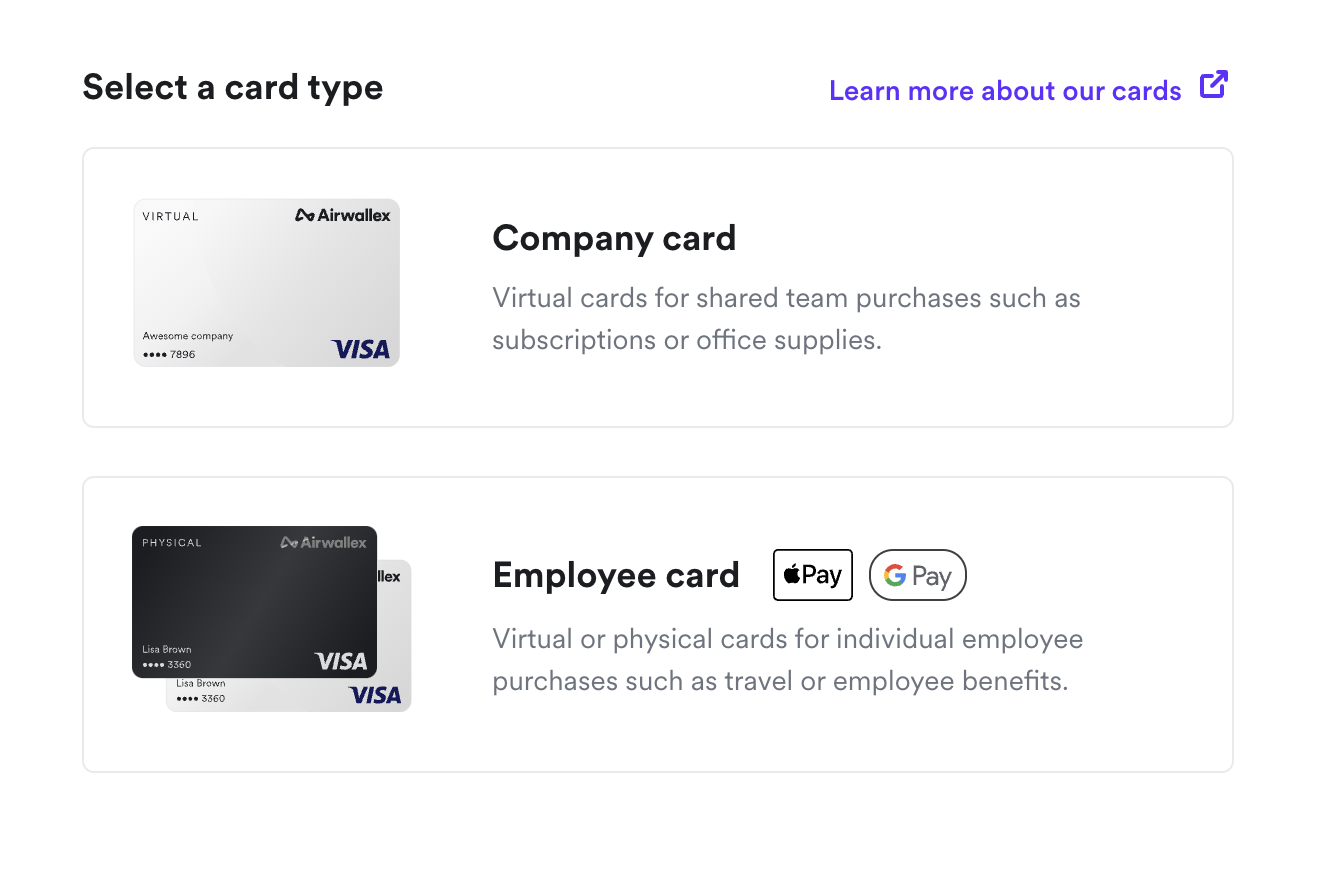 Step 3. Select an existing user from the list or click 'Invite new user'. Once you've invited them, they'll appear in your list for you to select. Click 'Next'.
If you're inviting a new user, you don't need to wait for them to sign up, you can create a card for them straight away!

Step 4: Configure a nickname and set spending limits
You can provide a nickname for the employee card you're creating. This nickname will only be displayed when cardholders log in to view their account on web or mobile. It will not be printed on the physical card or displayed in the cardholder's digital wallet.
You can also configure spending limits and the currency that the limits are set in. Regardless of the limit currency, cardholders will still be able to spend on the card in any currency.
You will be able to set up the following types of limits: per transaction, daily, weekly, monthly, quarterly, yearly, and all time. If you do not set up a limit, a default transaction limit will apply for transactions made on the card.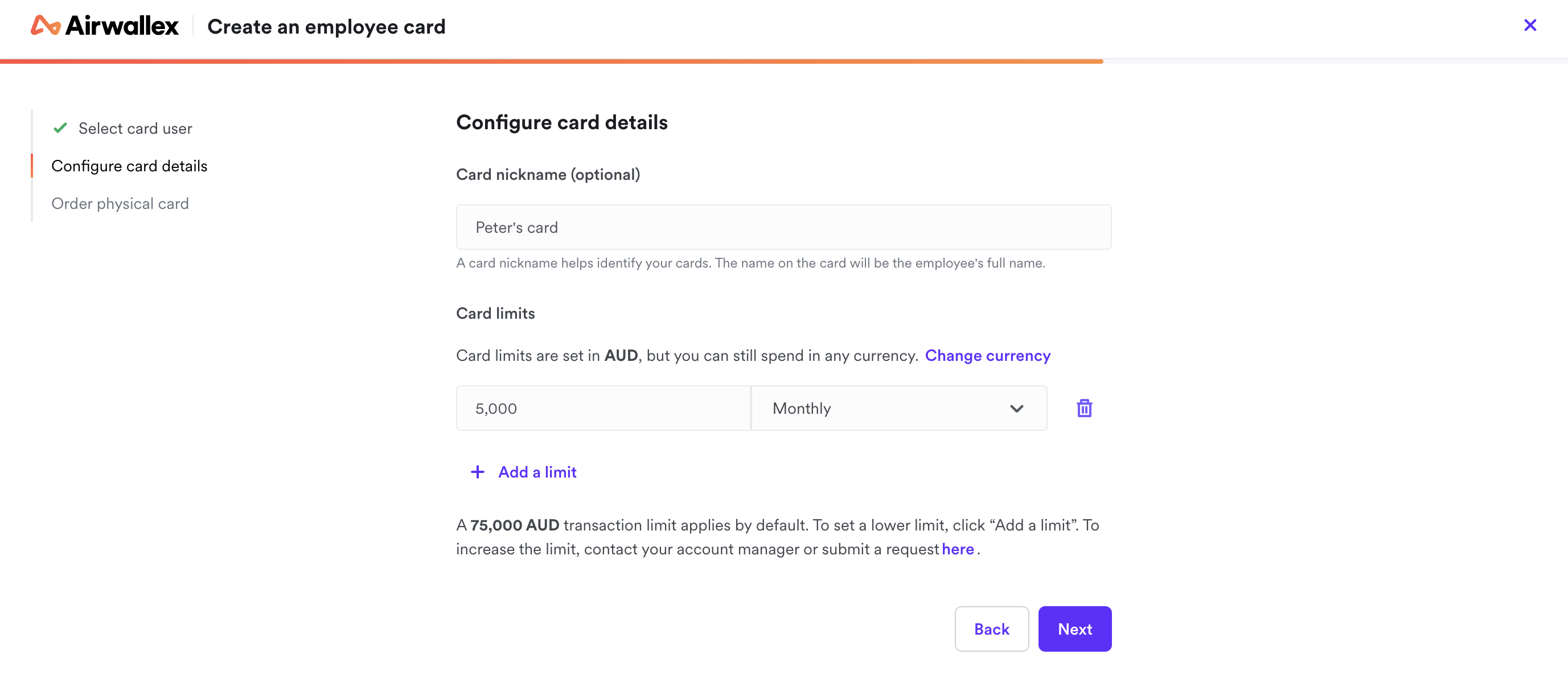 Step 5. Choose a delivery address
To provide a delivery address, you will have up to 3 options.
Let the employee provide their own delivery address. If you select this option, the employee will be notified to provide their delivery address first before the card is created and ordered
Use the company address. This option only shows up if your company address in the account is valid
Input a different address. If you select this option, you can input a different address from the company address for delivery
The only addresses we aren't able to accept at the moment are PO Boxes.
You also have the option not to create a physical card at all, and to just create a virtual card. Every physical card also comes with an attached virtual card.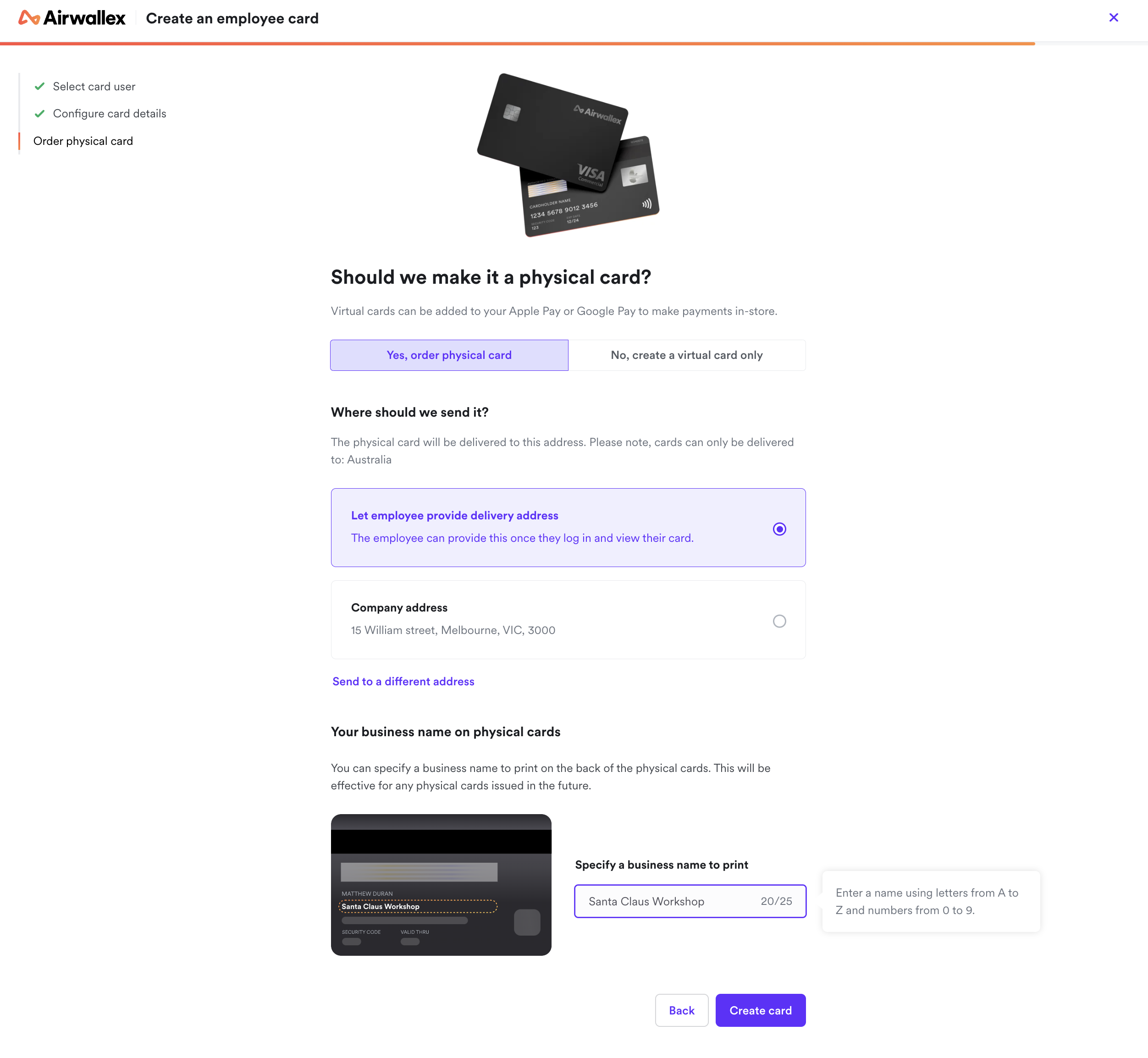 Step 6: Review business name to be printed on the card (only required when creating a physical employee card for the first time in the account)
By default, all physical employee cards created will have your account's business legal name printed on the back of the card. When creating the first physical employee card in your account, you will be prompted to review and, if needed, update the business name that will be printed on your account's physical employee cards.
Only business names that fit the following criteria will be able to be printed:
Has up to 25 characters
Has standard English letters (A-Z, not case sensitive)
Has numbers (0-9)
Does not have symbols
You can also return to the Card Settings page to review and update this business name later if needed.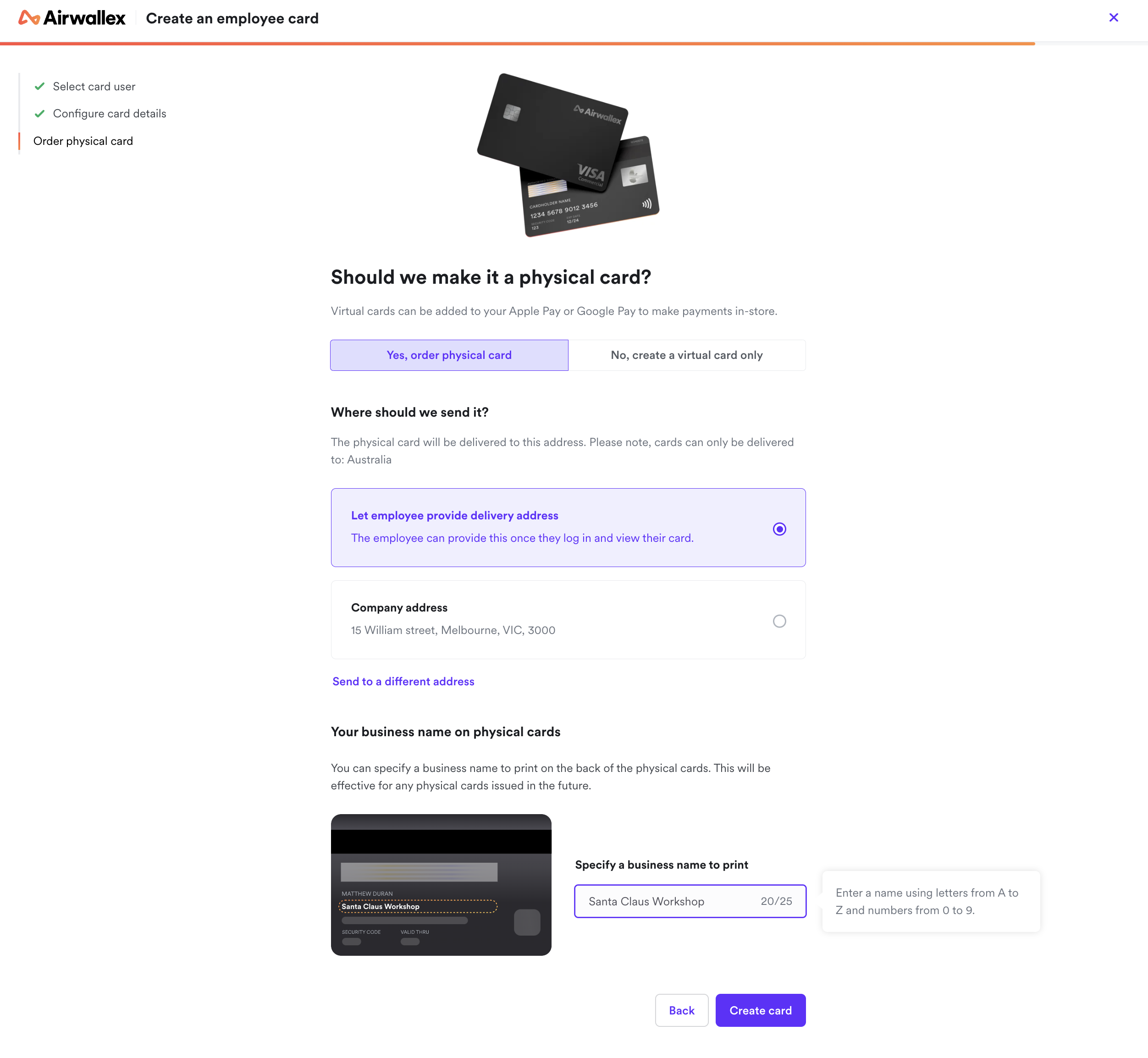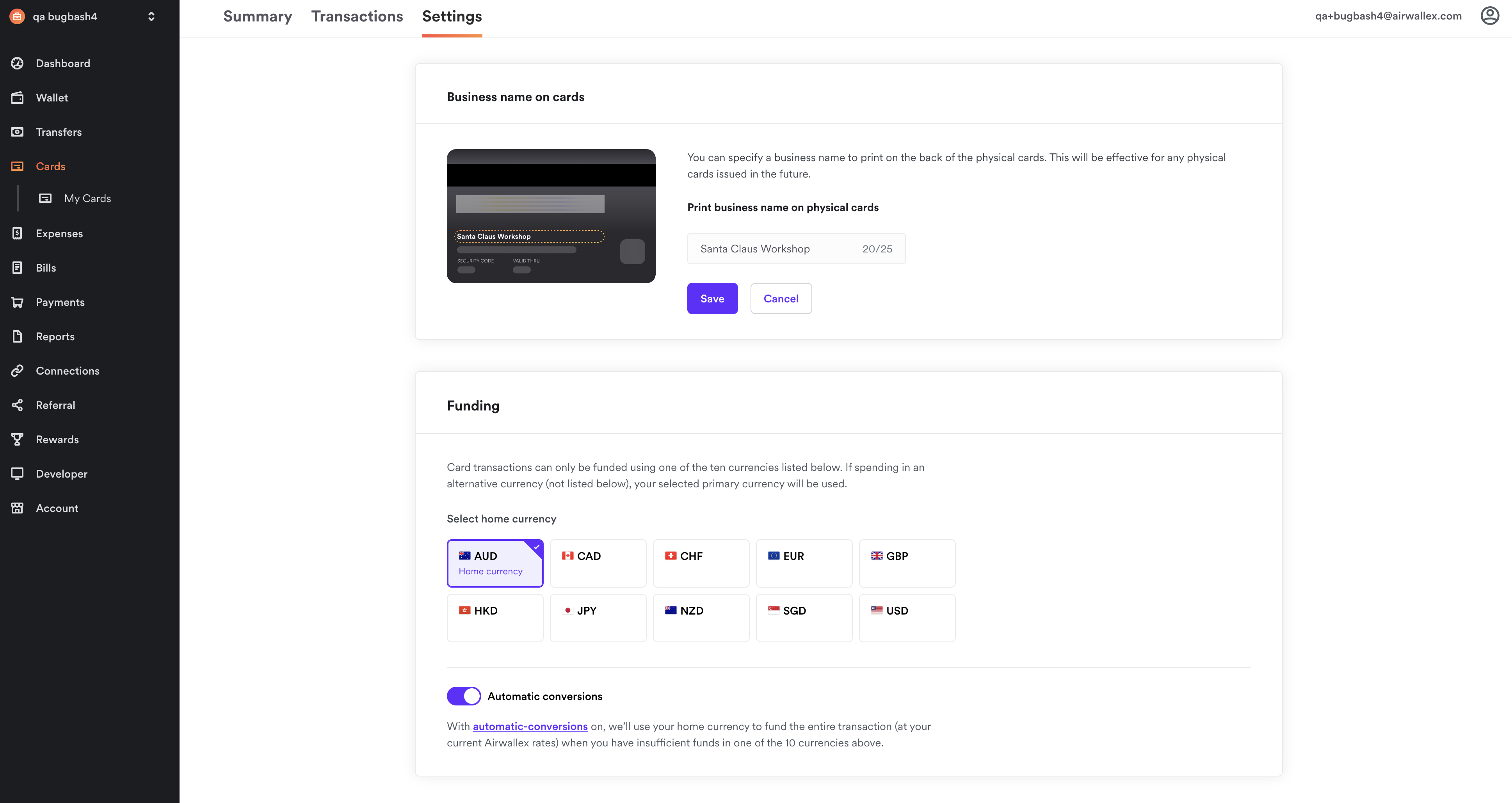 If your business legal name does not fit the criteria to be printed, no business name will be printed on your physical cards until you update the name. See below for a side by side image of cards with and without the business name.

Step 7. Review and click 'Create card'
What happens next?
'Sign up to Airwallex' email. If they're a new user on your Airwallex account, they'll receive an email asking them to set up their Airwallex account login information and verify their personal details. They should do this first. The link in this invitation will expire after 14 days, but you can reset it here.
'You have a new card' email. They'll also receive a second email notifying that you've created a card for them.
Use their virtual card. Once verified, they'll be able to login and start using their virtual card right away!
We'll make and send their physical card. We'll do this as soon as we have a delivery address and have verified their account.
Activate their physical card. Once they receive their physical card, they'll be able to activate it and set their PIN. You can view more instructions on this here.
Being using their physical card. Once activated, they'll be able to begin using their physical card to make purchases. Just a note, physical cards cannot be used to withdraw funds from ATMs.
Where are physical cards available?
Physical cards are only available in the following regions:
Australia
Hong Kong
Singapore
United Kingdom
United States of America
Watch this space and keep an eye out on our Global Feature Table.
Do physical cards work overseas?
Yes! Our physical cards will work anywhere VISA is accepted. Even better, you won't be charged any international transaction fees!
Where can I ship my physical card?
You can ship your physical card to any business or residential address within the same ordering country.
Please note we are not able to ship physical cards internationally, or to PO Boxes. You can, however, have the card delivered to your business address first, and then post it onwards to your employee!
How many cards can I get?
There's no limit to the number of virtual or physical cards you can create for your business.
Important notes:
When you activate your physical card, your virtual card expiry date and CVV may change. The card details page will provide instructions letting you know whether the expiry date and CVV will change after physical card activation. If they will change, try to avoid adding your virtual card details to any recurring payments until AFTER you've activated your physical card
Only the cardholder of the employee card will be able to see the full details of their card. Admins on the account will not be able to view the card details of another cardholder's employee card
When you receive a new Airwallex card, we will send your updated card details to Visa to make sure that your new card details will be shared with merchants where you have subscriptions you pay for with your Airwallex card. Let us know if you do not want us to share your new card details

If you run into any issues with this, our customer support team is always available to help.