For employees / cardholders
Account Admins can order a physical card for you, so please ask an Admin on your account to create a physical card for you.
For Admins
To create a physical card for your employees or yourself, simply follow these steps:
Step 1. Click the 'Cards' section of your account, then 'Create a new card'

Step 2. Select 'Employee card'
We're currently only offering physical cards for employee cards.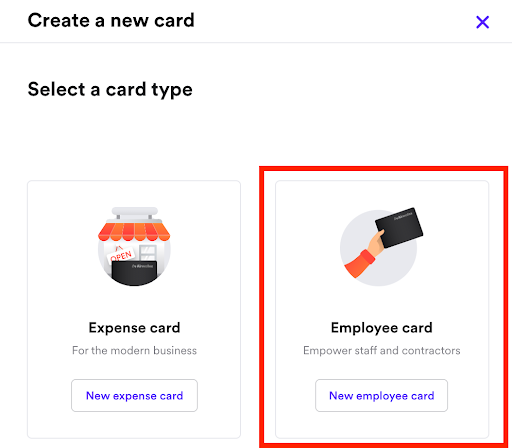 Step 3. Select an existing user from the list or click 'Invite new user'. Once you've invited them, they'll appear in your list for you to select. Click 'Next'.
If you're inviting a new user, you don't need to wait for them to sign up, you can create a card for them straight away!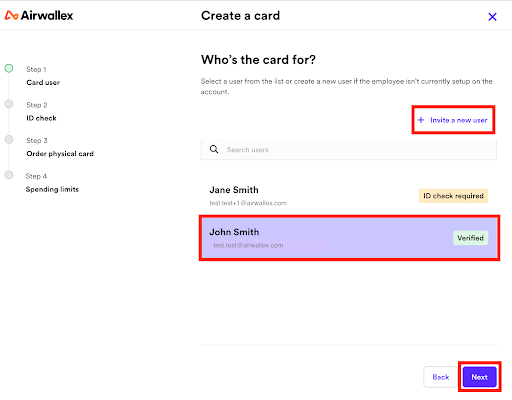 Step 4. Choose whether you'd like to verify your employee's ID and personal information on their behalf, or let them do it.
We generally recommend selecting 'Let employee complete', as they know their information best!
For example. The name you input must match the name on their ID. This can sometimes differ from the name they prefer to be called around the office!
Step 5. Choose a delivery address.
You can choose between your registered business address, your employee's address (if you have it on file), or a different address altogether.
The only addresses we aren't able to accept at the moment are PO Boxes.
You also have the option not to create a physical card at all, and to just create a virtual card. Every physical card also comes with an attached virtual card.
Step 6. Set your spending limits
Step 7. Review and click 'Create card'
What happens next?
'Sign up to Airwallex' email. If they're a new user on your Airwallex account, they'll receive an email asking them to set up their Airwallex account and login details. They should do this first. The link in this invitation will expire after 24 hours, but you can reset it here.
'You have a new card' email. They'll also receive a second email notifying that you've created a card for them.
Submit their ID. If it's their first card, they'll be required to submit their ID. They can do this by following the link in their email or logging into their Airwallex account. They'll then need to wait for our team to verify their ID, which they'll do it as quickly as possible.
Use their virtual card. Once verified, they'll be able to login and start using their virtual card right away!
We'll make and send their physical card. We'll do this as soon as they've submitted their ID and we've verified their account.
Activate their physical card. Once they receive their physical card, they'll be able to activate it and set their PIN. You can view more instructions on this here.
Note: When you activate your physical card, your virtual card expiry date and CVV will change. Prior to physical card activation, the virtual card will have had different expiry and CVV. This is to prevent any unauthorised use in the off-chance it's intercepted on it's way to you. Therefore, try to avoid adding your virtual card details to any recurring payments until AFTER you've activated your physical card.
If you run into any issues with this, our customer support team is always available to help.