This guide will walk you through how to link your external bank account to Airwallex, which at times will be required in order to complete your transaction.
Navigate to the Linked Bank Accounts center by going to Account → Settings → Linked bank accounts.

Select the bank account owner from the dropdown menu, which includes the UBOs and individuals associated with your account that you have provided to Airwallex during onboarding.
Please note that you may amend the bank account name so that it matches exactly against the account name recorded at your financial institution (i.e. from ABC Inc. to ABC Ltd.). However, it must still be owned by your selected bank account owner.
Input your bank account details, check that the details are correct, and click submit.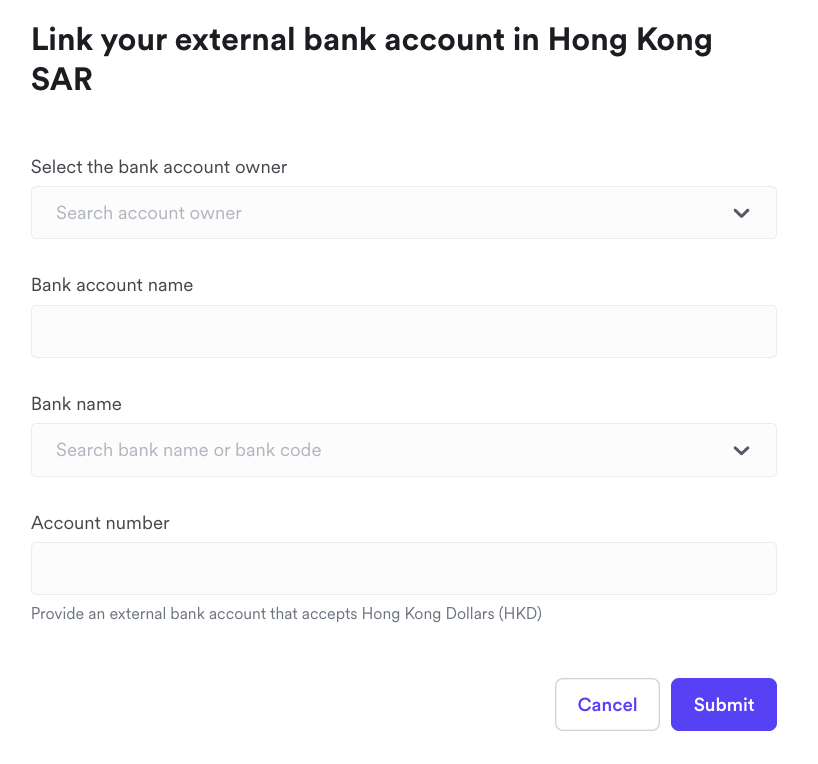 To verify your linked bank account, check your external bank account for the 2 micro-deposit amounts, which are expected to arrive no later than 2 business days. Look out for "Airwallex" in the payer name.
- If you do not see your micro-deposit after 2 days, please double check that the bank information (including account name and account number) you entered is correct, and then contact us for support.
When you've received the micro-deposit, you may go back (either via the reminder displayed on your Dashboard, or by going back to the Linked Bank Accounts center) to input the micro-deposit amounts and complete verification.