This feature is currently only available for selected customers with businesses registered in Australia and the United States. Customers with access can add funds via Direct Debit from bank accounts based in Australia and the United States. If you would like to request this feature and get early access for your account, let us know here.
To make it easier for you to top-up funds to your Airwallex wallet - you can link your bank accounts to Airwallex. This allows you to withdraw funds from your other bank accounts into Airwallex via direct debit all within the Airwallex platform. Linking new accounts is currently only supported on the web app for bank accounts based in the United States.
Note: Direct debits can only be initiated by approved users on your account; Airwallex will never initiate direct debits without your knowledge. Funds typically take 2 - 4 business days to be deposited into your Airwallex wallet via direct debit. All accounts also have a preset daily limit; to raise this limit, you can contact our Support Team here.
- How to link my United States bank account?
- How to link my Australian bank account?
- Set User Permissions for initiating direct debits
How to link my United States bank account?
1. Click on "Add funds" on your Dashboard or Wallet tab
2. Click on "Direct debit from Linked Bank Account"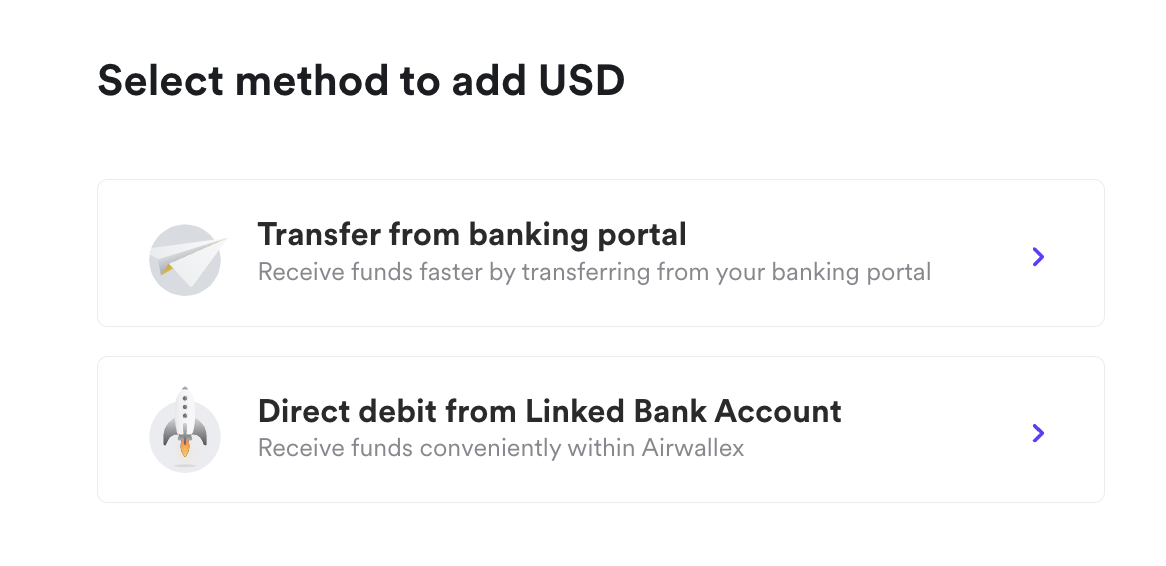 3. Select the bank account owner from the dropdown menu, which includes the UBOs and individuals associated with your account that you have provided to Airwallex during onboarding.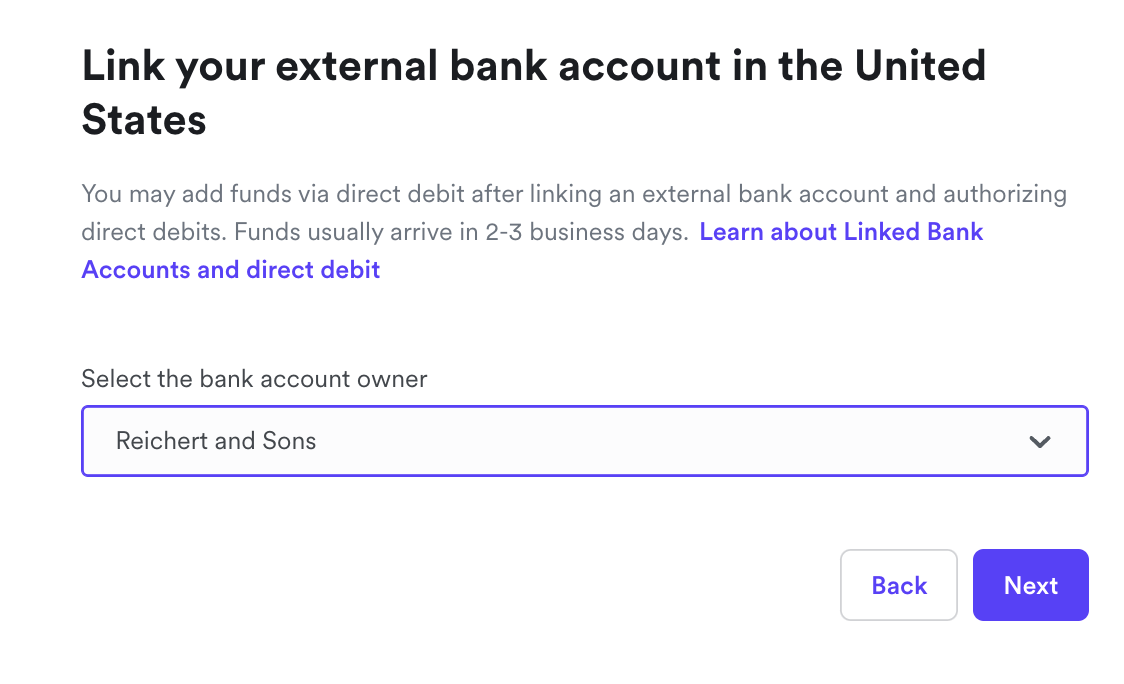 4. Verify your bank account
Airwallex uses Plaid to verify your bank account information and check if your account balance can cover the transaction amount. Plaid provides a secure environment for you to connect your financial accounts. Airwallex will not have access to your bank account information. Learn more about Plaid's commitment to consumer privacy.
You need to enter your bank credentials (i.e., username and password information) to log in to your bank account. Please note that the owner of the selected bank account must be the same as the owner you specified in Step 2. Otherwise, we may fail to verify the account.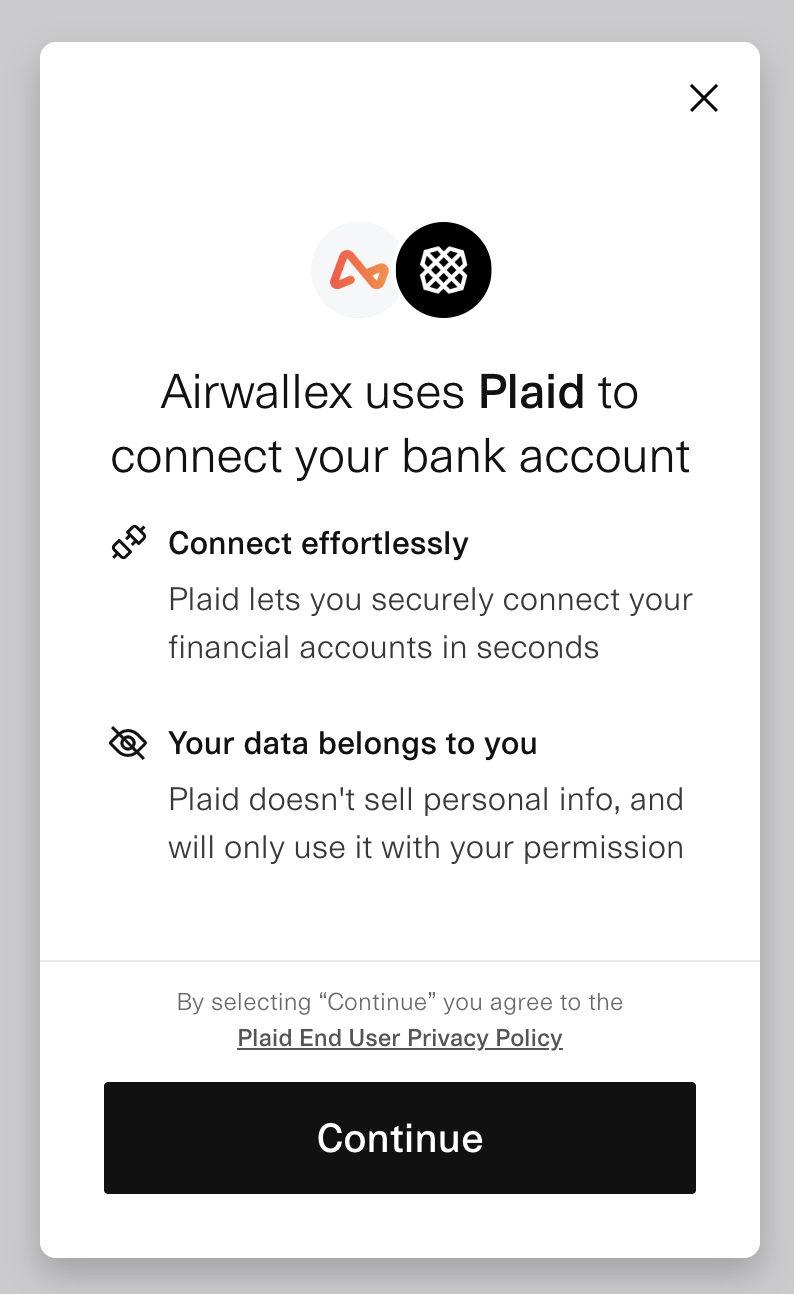 After successfully verifying and creating an active Linked Bank Account, you can now use direct debit to add funds! For now, USD direct debit top-up is only supported on Web, while support for iOS mobile app is coming out soon.
Please note that you need to authorize Airwallex to direct debit from your external bank account. We will send a copy of the Direct Debit Authorization to the bank account owner's email address.
How to link my Australian bank account?
We're temporarily pausing the acceptance of new Linked Bank Accounts based in Australia to be used for direct debit. If you have an existing Australian bank account linked to Airwallex, you can still direct debit from that account to add funds.
Setting user permissions for initiating direct debits
By default, only users in the account Admin role can initiate direct debits. To update permissions to enable / disable users from initiating direct debits, you may:
Go to Account → User Management → Roles
Select the menu inside "ᐧᐧᐧ" of a role
Select Edit role
Toggle "Funding via Linked accounts" on or off
Have suggestions or ways we could improve this feature? We'd love to hear how we can build a better top-up experience - let us know here.