Airwallex has built an expansive global payment network to help businesses make fast, seamless, international payments.
This guide will walk you through the process to create a new payment using Web App.
The process for Australian and UK customers is a little different - Learn how to book payments in Australia and the UK
1. Navigate to Payments in the sidebar
Booking a new payment takes place on the Payments page in Web App. Navigate to this page in the sidebar on the left of the screen to begin this process.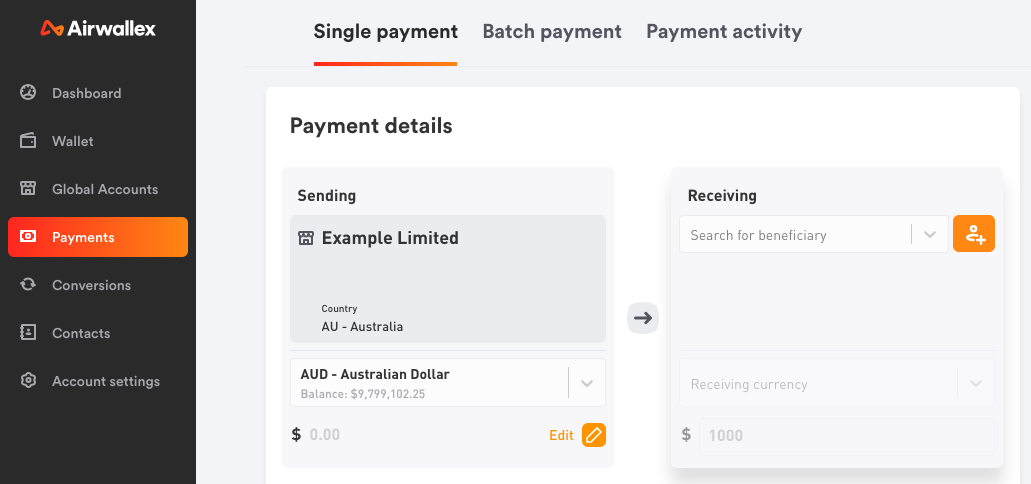 2. Select funding account
Clicking on the wallet under your business will present a dropdown menu of available Wallets to fund this payment.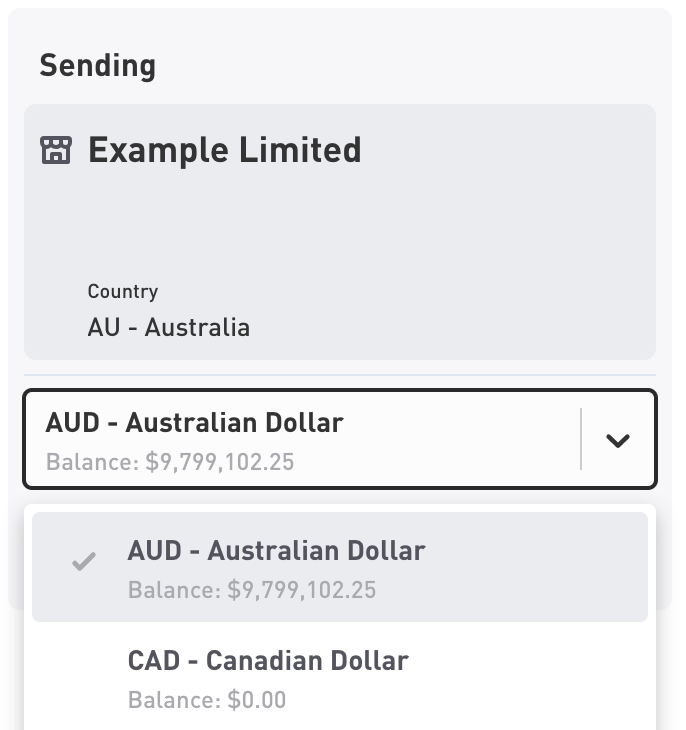 3. Select recipient
Clicking the recipient field will display a dropdown of recently added contacts. Select a beneficiary from this list, or click + New recipient or the new contact icon to create a new contact for this payment.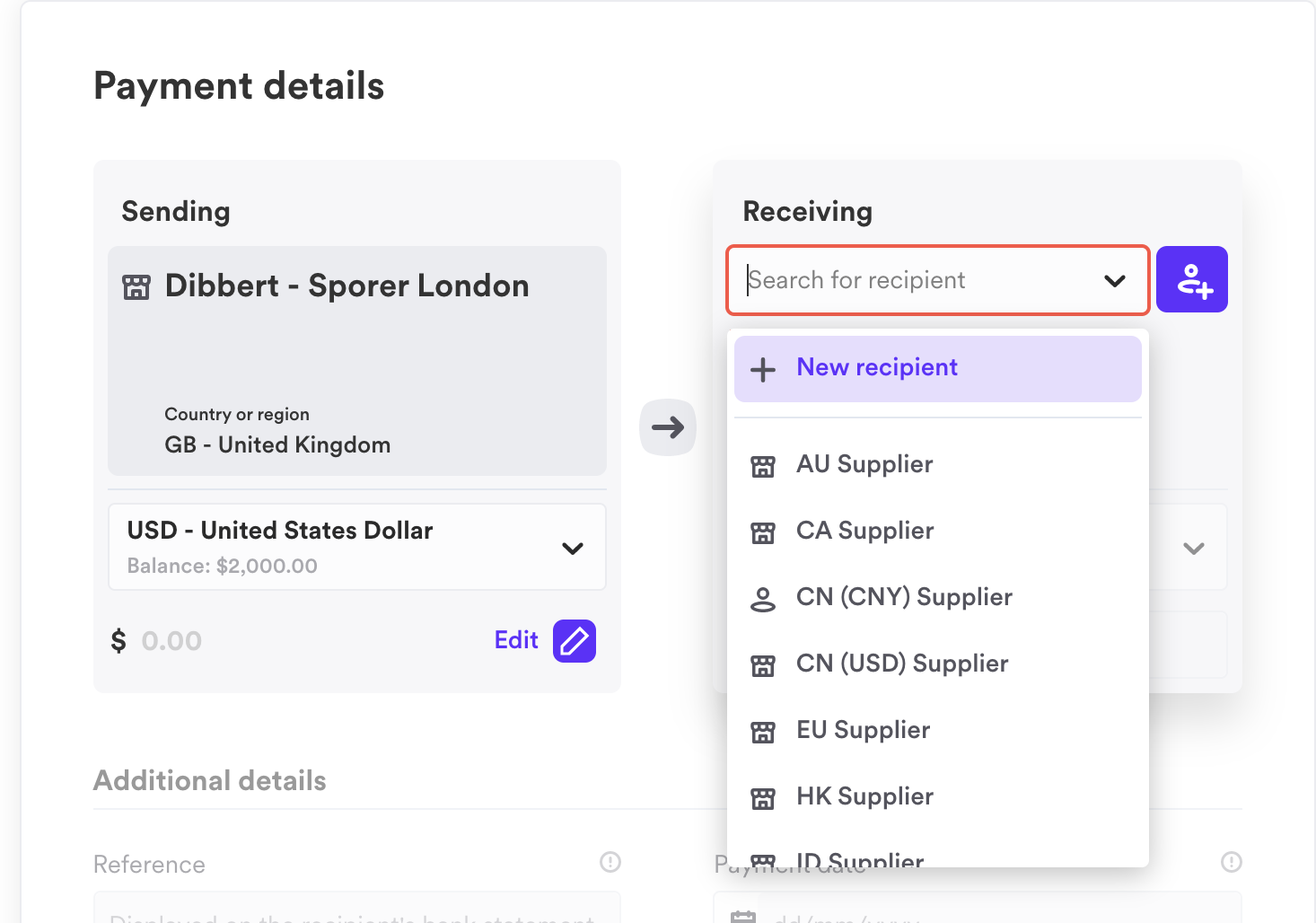 See Adding and Managing Contacts for more information
4. Select amount to send
You can choose an amount to be sent or to be received by clicking on either the Sending or Receiving amount - this will update the amount on the other side.

5. Add additional details for transaction
There are a number of additional details to include when creating a new payment.
These are outlined below:

5.1 Reference - This reference is used to help the beneficiary identify this payment when displayed on the their bank statement
5.2 Payment type - Depending on the destination country and bank account, one or both of these options will be available for your payment.
Local - Your payment will be sent using local payment networks. These payments are generally delivered faster and with lower fees than traditional SWIFT payments.
SWIFT - Using the SWIFT network for this payment may require additional details to be added to the beneficiary. This is normally completed when creating a new contact.
5.3 Reason for transaction - clicking this field presents a dropdown list of payment reasons to choose from to help categorise this payment.
5.4 Payment date - this is the date the payment will originate from your account. It can take 1-3 business days for your funds to arrive depending where they are being delivered.
5.5 Request ID (optional) - You can request a custom ID to be used as an internal reference if your accounting system requires this.
6. Review your payment details
Once you have clicked Confirm payment on the previous screen, you will be presented with an overview of the payment to review before submitting. This will show all details associated with the payment.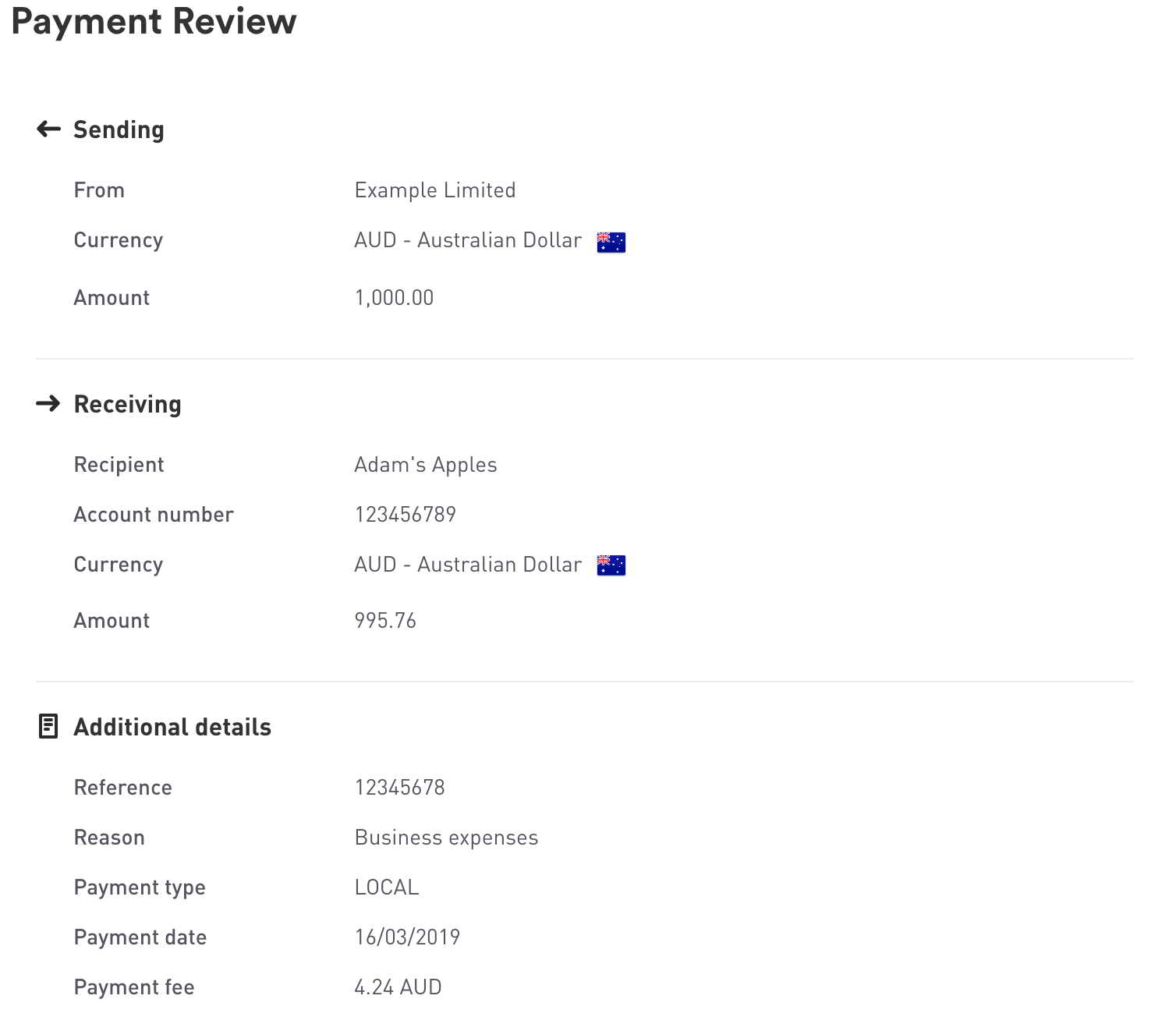 Once you have reviewed these details, check the box to agree to the terms of the payment and then click Confirm payment to proceed.

7. Confirmation screen
You will be shown a booking completion screen to confirm that your payment has been successfully booked. You will also receive an email from Airwallex confirming the payment.